The following information is provided by First Student regarding temporary changes to some bus routes the next few weeks. These changes are effective Monday, October 3, 2022. Rascals Store stop will be picked up by route D at about 7:35 Westoak Rd stops on Bus E will catch the bus 30 minutes earlier than usual Westoak Rd stops on Bus B will not be affected. Westfir and Hemlock stops will catch the bus 30 minutes earlier than usual The afternoon double up will be the same one we have been using. Thank you for your patience as First Student pivots to meet

MS Football Game has been cancelled for today 9/28 and moved to tomorrow Thursday 9/29 at 5:00pm in Creswell.


The Junior High/High School office phone is not working at this time. If you need to contact the office, please call: 541-520-8542

Thank you!!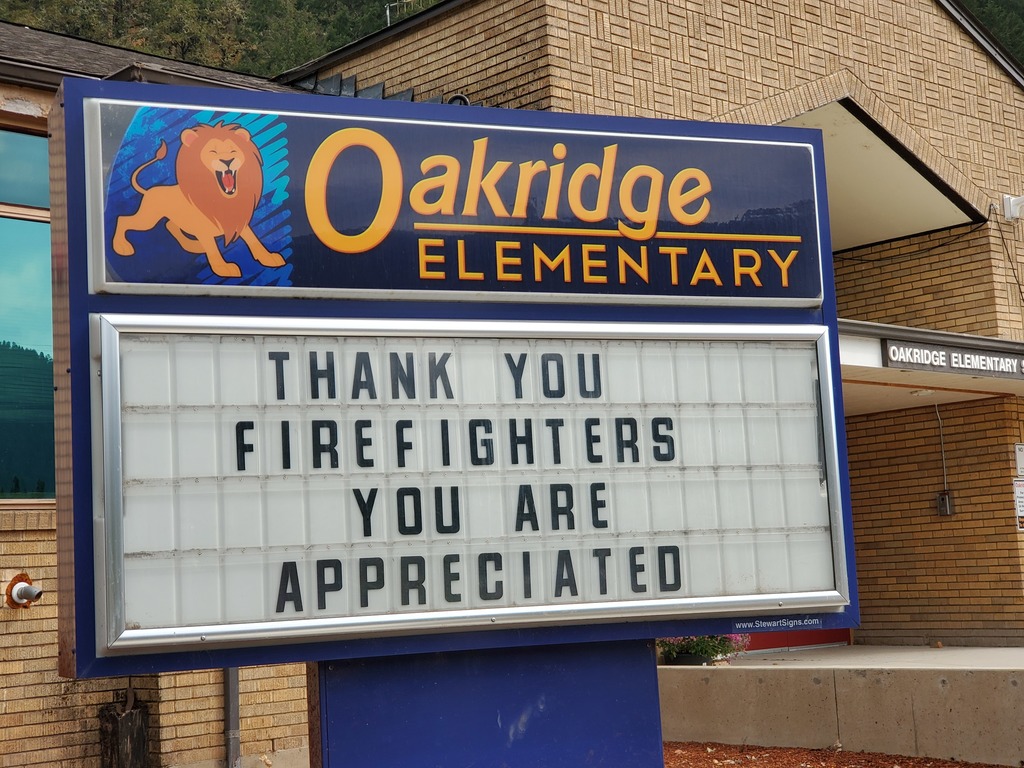 Due to poor air quality in Oakridge, the home football game this evening has been moved to Monroe High School. Kickoff is still set for 7:00 PM. Go Warriors!

OJSH Picture day is October 17th and Retakes will be November 17th.

Dear Oakridge parents and guardians, It is important that you are aware of a development at our junior/senior high school that has students talking. We are continuing to investigate an alleged school threat reportedly overheard by some OJHS students Wednesday. In an abundance of caution, law enforcement was called. The school district is cooperating with authorities who are looking into the situation to determine if there was a real intention to harm anyone. When it comes to student safety, we must take threats seriously. When teaching students, we try to emphasize that their words do matter, that what they say can carry significant weight, even statements made in jest or in anger. We would appreciate your help reinforcing this message at home. Safety and security of all students is our first priority. We all need to work together to help keep our children safe, and that includes all Oakridge students being personally responsible for their actions and words. In you have any questions, feel free to contact me. Reta Doland, Superintendent Oakridge School District

Food Boxes are ready for pick up at the High School Parking lot.

We are having technical difficulties with the Elementary phone lines. Please call the number below to reach the front office for the time being. 541-520-2486

ANNOUNCEMENT: Due to the accident on HWY 58, Central Linn is not able to get through for our Volleyball matches. Sorry everyone, games are cancelled. We will let you know when they are rescheduled.

Volleyball game tonight is cancelled due to the highway being closed. 9/20

Westfir and Oakridge housing information requested.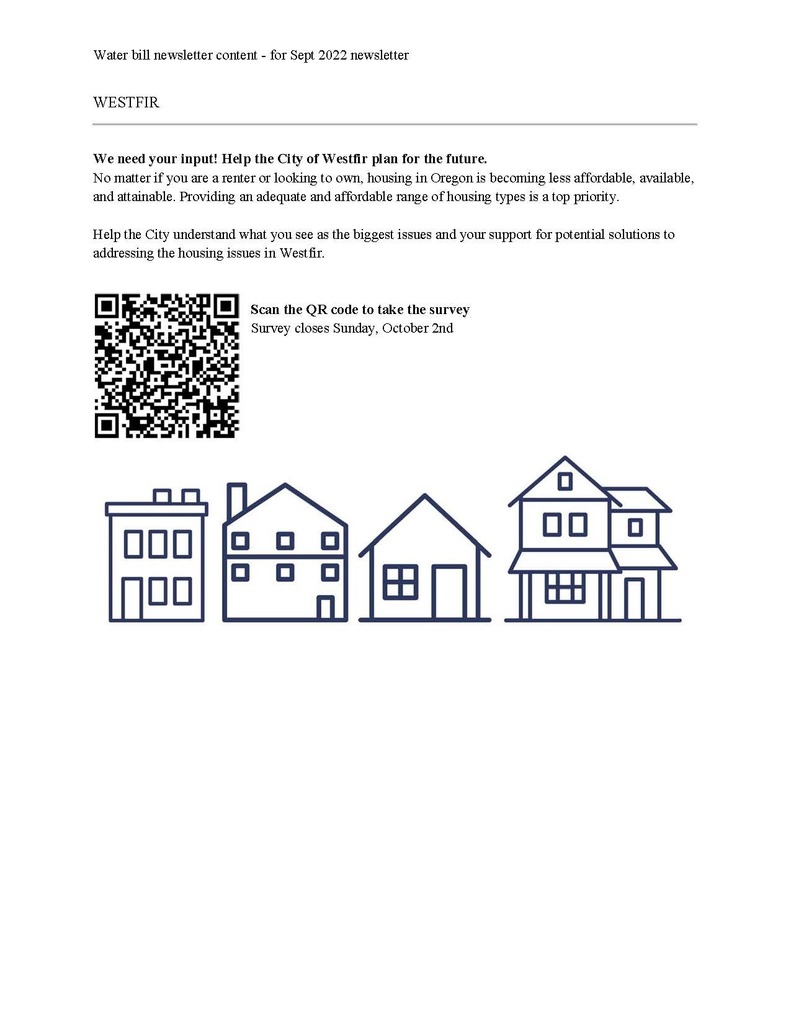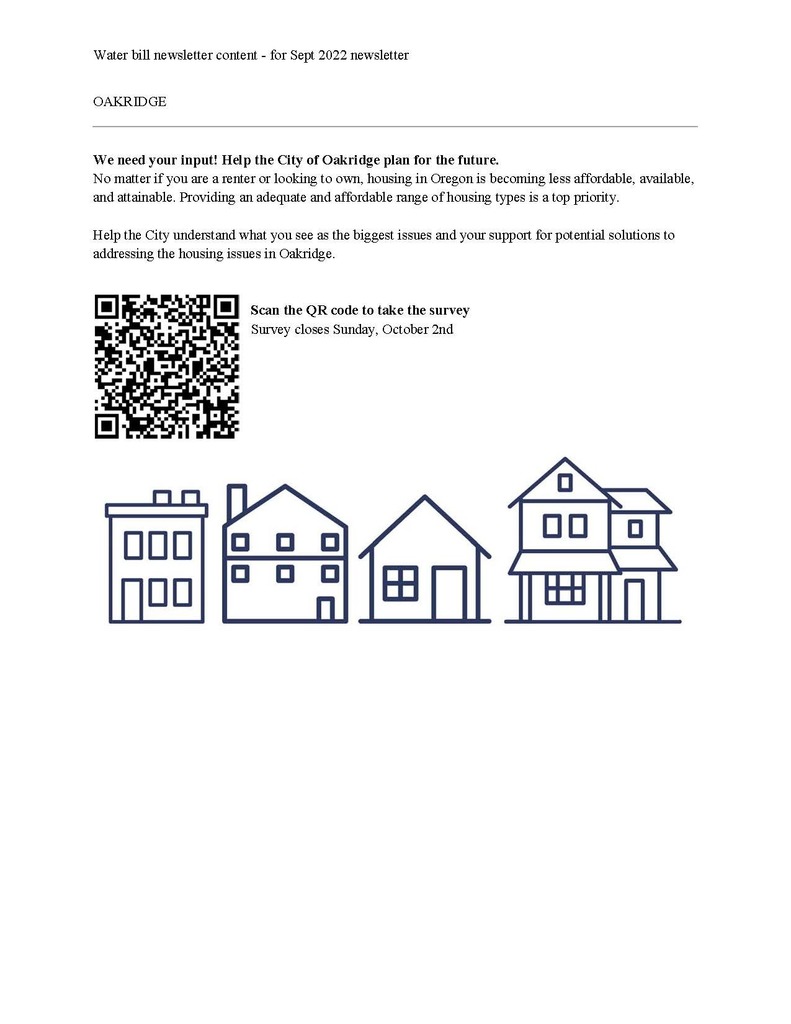 2021-23 School bus No Spray Letter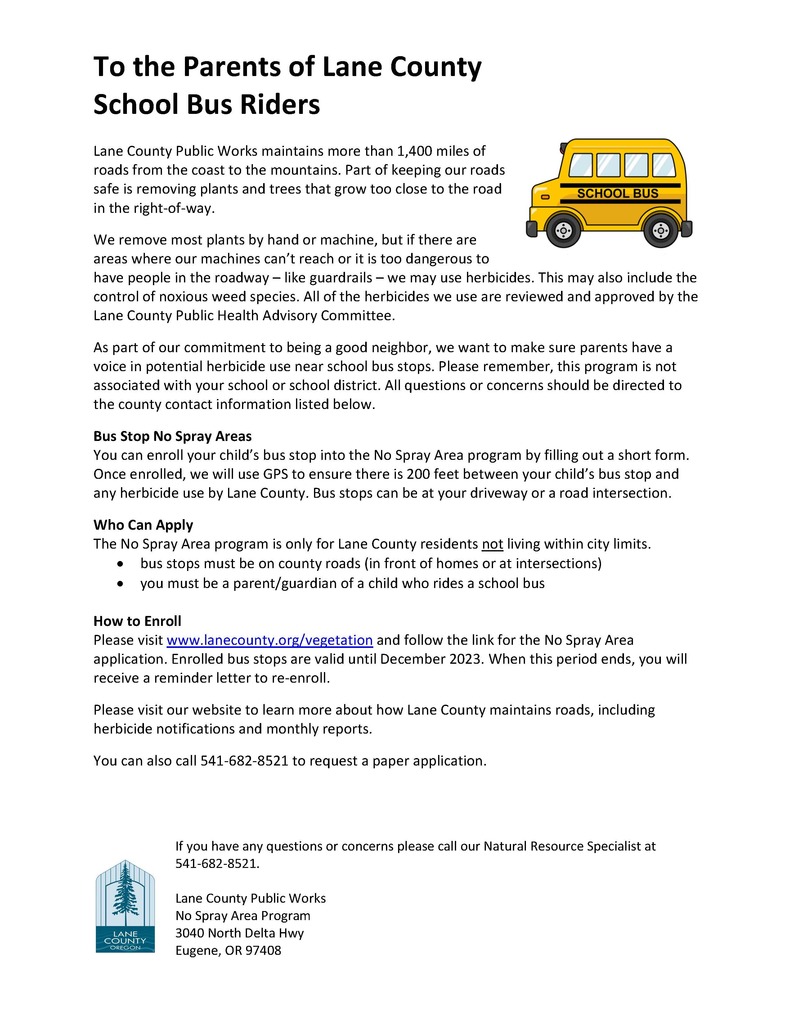 Friday the 16th, Lego robotics is cancelled.
Mobile Pantry is Mobilizing to Oakridge on Friday 9/16 10am - 12pm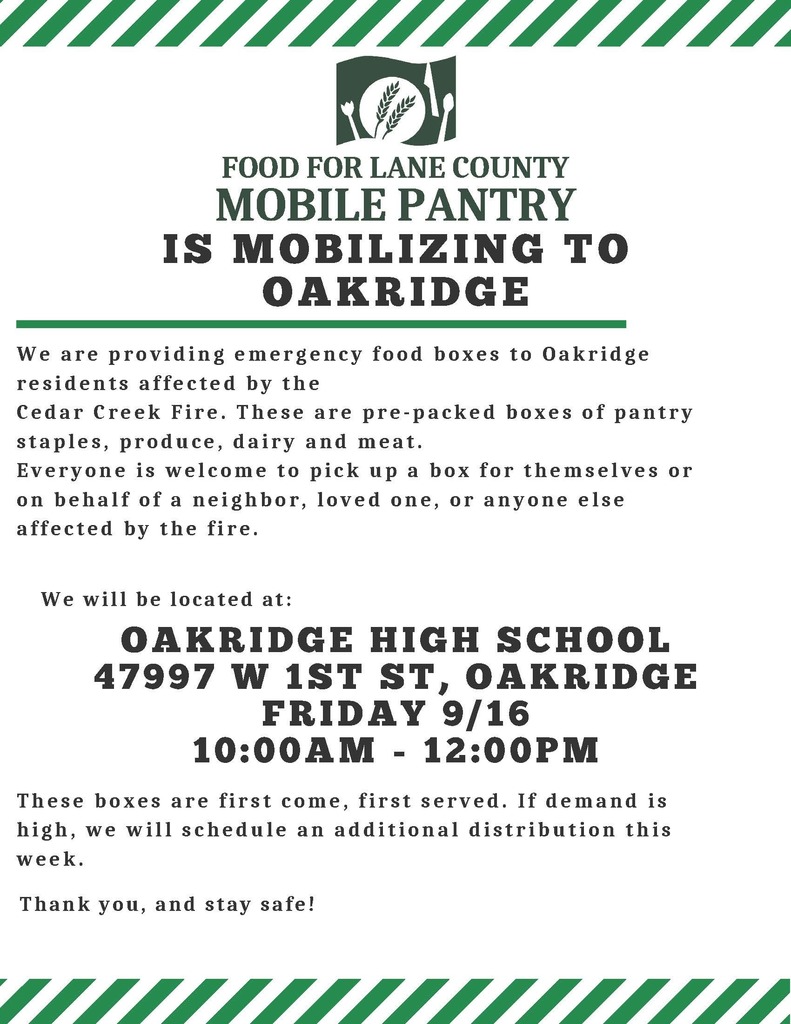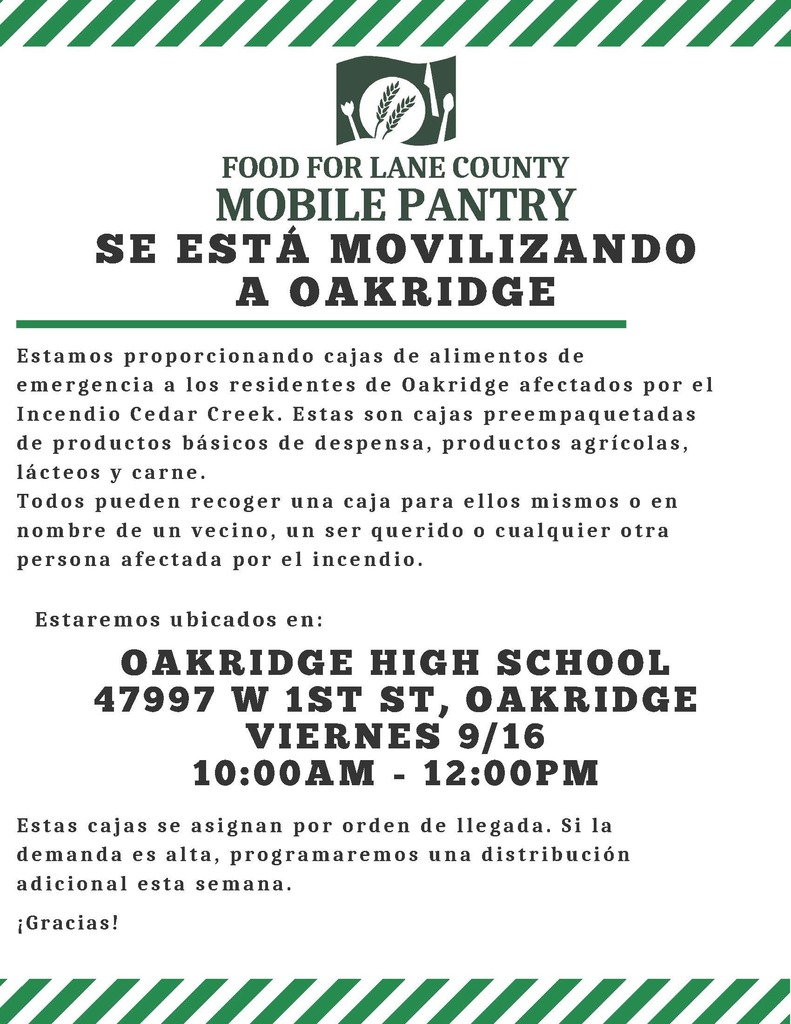 Mobile Food Pantry Update Due to high demand, the food boxes have been distributed. Food for Lane County will return to the Oakridge High School on Friday, September 16 to distribute boxes to those they were not able to serve today.

Food for Lane County is distributing food boxes from 10 am to 12 noon today. Come down to the High School to drive through and pick up food boxes for your family. The boxes are available for all Oakridge, Westfir, and High Prairie residents.

Updated Evacuation Levels LEVEL 2 (Be Set) EVACUATION NOTICES ISSUED FOR: High Prairie area Hills Creek Reservoir area Oakridge north of Laurel Butte Road and east of Fish Hatchery Road Level 2 means you must prepare to leave at a moment's notice, and this may be the only notice that you receive. LEVEL 1 (Be Ready) EVACUATION NOTICES ISSUED FOR: The City of Westfir Oakridge between Laurel Butte and the Middle Fork Willamette River west of Fish Hatchery Road Level 1 means you should be aware of the danger that exists in your area, monitor local media outlets and telephone devices to receive further information.