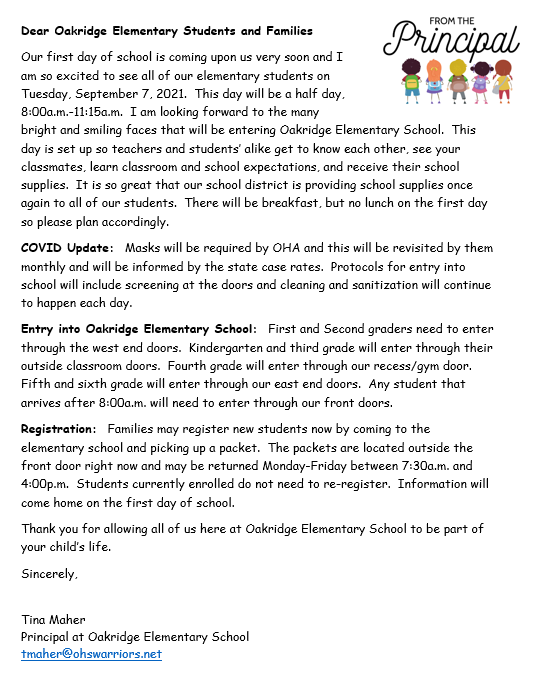 OES Letter from the Principal
Andrea Bray
Monday, August 23, 2021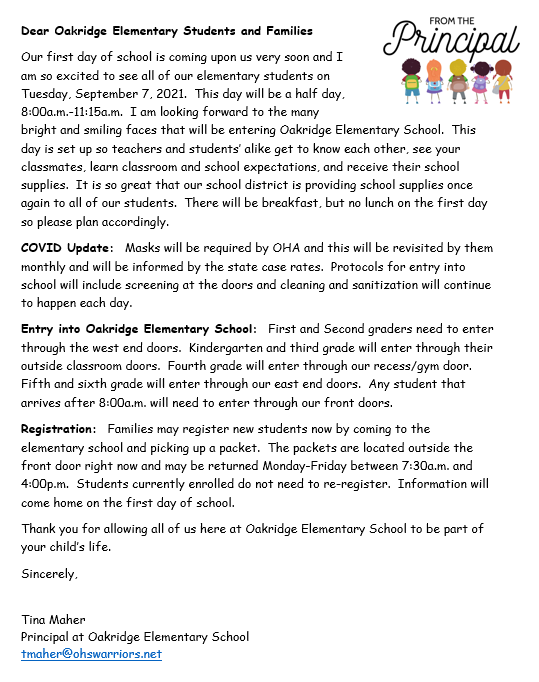 Dear Oakridge Elementary Students and Families
Our first day of school is coming upon us very soon and I am so excited to see all of our elementary students on Tuesday, September 7th, 2021. This day will be a half day, 8:00am-11:15am. I am looking forward to the many bright and smiling faces that will be entering Oakridge Elementary School. This day is set up so teachers and students' alike get to know each other, see your classmates, learn classroom and school expectations, and receive their school supplies. It is so great that our school district is providing school supplies once again to all of our students. There will be breakfast, but no lunch on the first day so please plan accordingly.
COVID Update
Masks will be required by OHA and this will be revisited by them mostly and will be informed by the state case rates. Protocols for entry into school will include screening at the doors and cleaning and sanitization will continue to happen each day.
Entry into Oakridge Elementary School
First and Second graders need to enter through the west end doors. Kindergarten and third grade will enter through their outside classroom doors. Fourth grade will enter through our recess/gym door. Fifth and sixth grade will enter through our east end doors. Any student that arrives after 8:00am will need to enter through our front doors.
Registration
Families may register new students now by coming to the elementary school and picking up a packet. The packets are located outside the front door right now and may be returned Monday-Friday between 7:30am and 4:00pm. Students currently enrolled do not need to re-register. Information will come home on the first day of school.
Thank you for allowing all of us here at Oakridge Elementary School to be part of your child's life.
Sincerely,
Tina Maher
Principal at Oakridge Elementary School