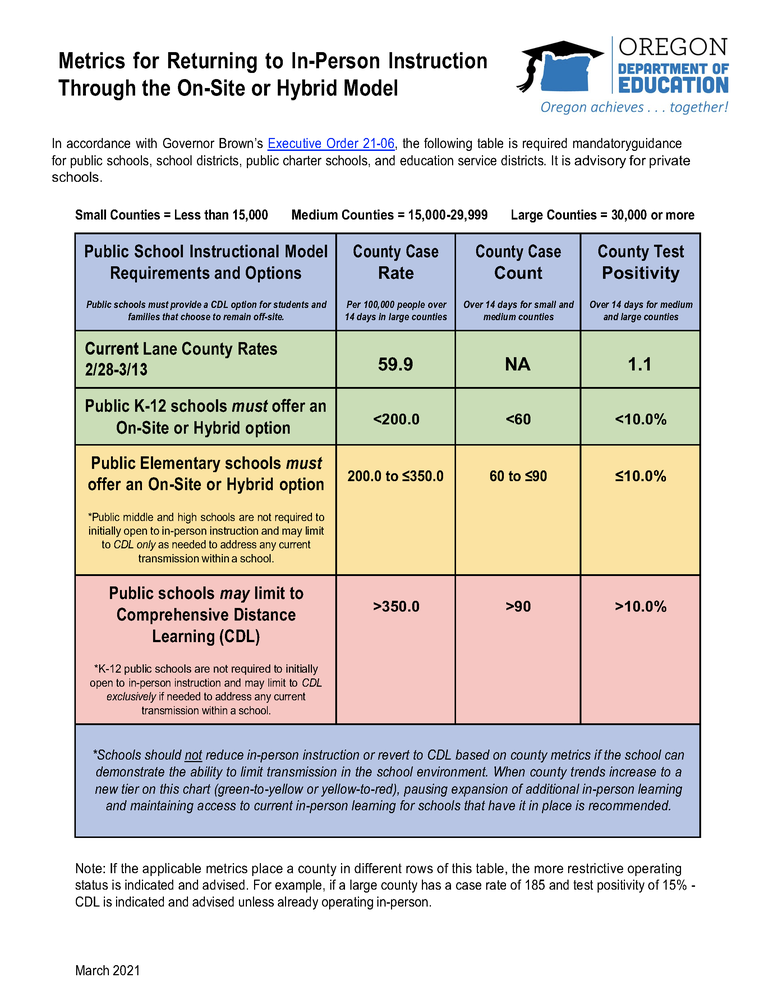 Metrics & Information
Reta Doland
Thursday, March 18, 2021
Weekly Update:
Each week, we look at the Oregon Reopening Metrics Dashboard to determine if/when we can return to on-site instruction in a Hybrid model. State data for Oregon and Lane County has been updated based on the last 14-day period (2/28-3/13). The data link for Lane County is attached below this message. Based on this data; The absolute case count is 58.9 cases; The positivity rate is 1.1%. This is a decrease in cases over the previous two week period. Lane county at this time falls in the On-Site and Hybrid Transition Model (Yellow) zone.
This continues to be excellent news for Lane County and our schools!
You may view the metrics, here. On, Monday, March 29, we will return our students in grades 9-12 to Hybrid learning. This means for the first time in a year, we will have all students on site every day! Students will continue to attend in A and B cohorts. We also acknowledge that some may choose to continue having their children school from home. We will continue to support you with online instruction through our online platform Acellus.
Meal service for students will continue to be sent home from school. In addition, we will continue the drive up meal delivery on Monday and Wednesday. All students schooling from home (CDL) and any child ages 1 year - 18 years in the community not attending school in OSD, are eligible for the meals. Please come and pick up a meal. There are no income guidelines, you are not taking food from anyone else. The OSD is excited to work with our community to ensure all children have access to meals.
For more information on case counts or test positivity, please go to: https://www.wesd.org/Page/1282