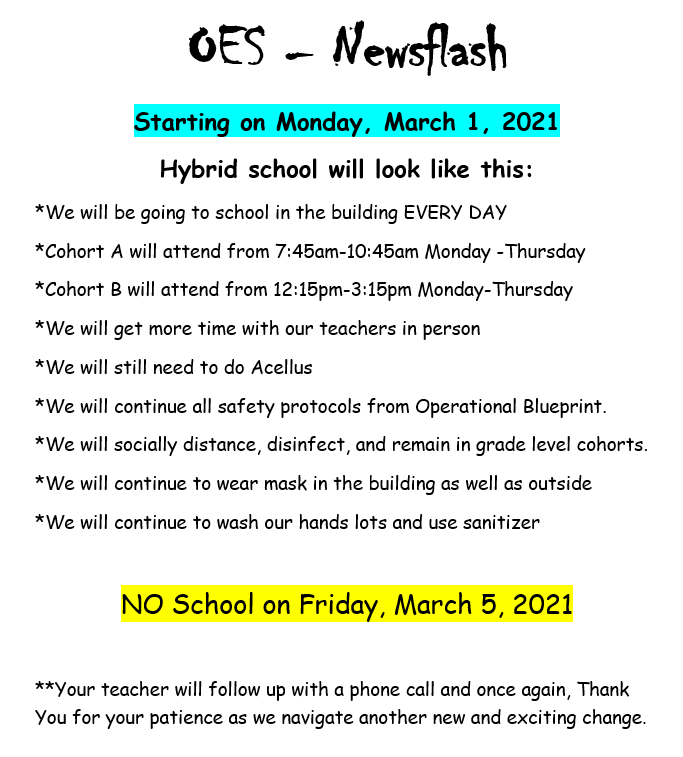 OES News Flash - Hybrid Schedule
Andrea Bray
Wednesday, February 24, 2021
OES – Newsflash
Starting on Monday, March 1, 2021
Hybrid school will look like this:
*We will be going to school in the building EVERY DAY
*Cohort A will attend from 7:45am-10:45am Monday -Thursday
*Cohort B will attend from 12:15pm-3:15pm Monday-Thursday
*We will get more time with our teachers in person
*We will still need to do Acellus
*We will continue all safety protocols from Operational Blueprint.
*We will socially distance, disinfect, and remain in grade level cohorts.
*We will continue to wear mask in the building as well as outside
*We will continue to wash our hands lots and use sanitizer
NO School on Friday, March 5, 2021
**Your teacher will follow up with a phone call and once again, Thank You for your patience as we navigate another new and exciting change.