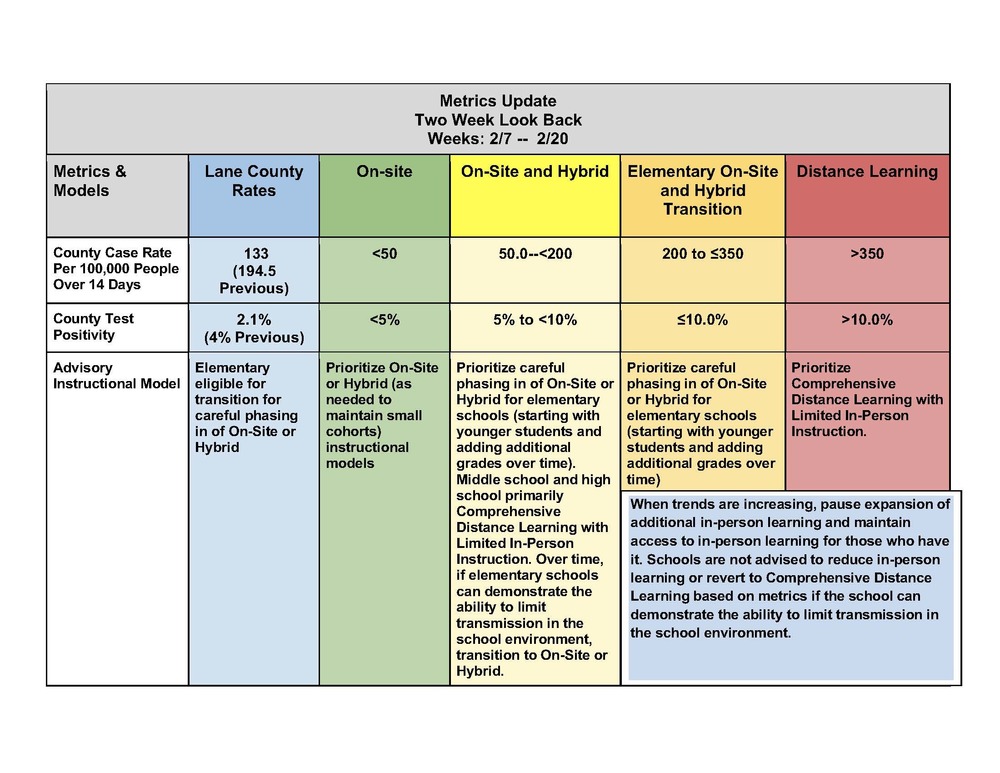 Weekly Metric Update
Reta Doland
Monday, February 22, 2021
Weekly Update:
Each week, we look at the Oregon Reopening Metrics Dashboard to determine if/when we can return to on-site instruction in a Hybrid model. State data for Oregon and Lane County has been updated based on the last 14-day period (2/07-2/20). The data link for Lane County is attached below this message. Based on this data; The absolute case count is 133* cases; The positivity rate is 2.1%. This is a decrease in cases over the previous two week period. Lane county at this time falls in the On-Site and Hybrid Transition Model (Yellow zone). To be in the Green Zone, the 2 week look back of case counts per 100,000 needs to be 50 or less.
* LCPH reports there may be a glitch in the numbers for this week due to possible errors on their end. This number may change when those errors are resolved.
What does this mean?
This continues to be very good news for Lane County and our schools!
Under the new metrics here, we are able to continue to add more students for Limited In Person Instruction (LIPI), AND begin implementing Hybrid Learning. Those who chose to continue with online learning may do so.
For more information on case counts or test positivity, please go to: https://www.wesd.org/Page/1282